ESN Geneva, Erasmus Student Network Geneva, is one of the most active associations on the campus of the University of Geneva. Its aim is to integrate exchange students through meetings, activities and events. In order to find local members, ESN Geneva carries out large recruitment campaigns at the University. This year, the campaign is taking place in space. The theme is "galactic" and the tone is humorous in order to invite local students to apply for the recruitment selection process.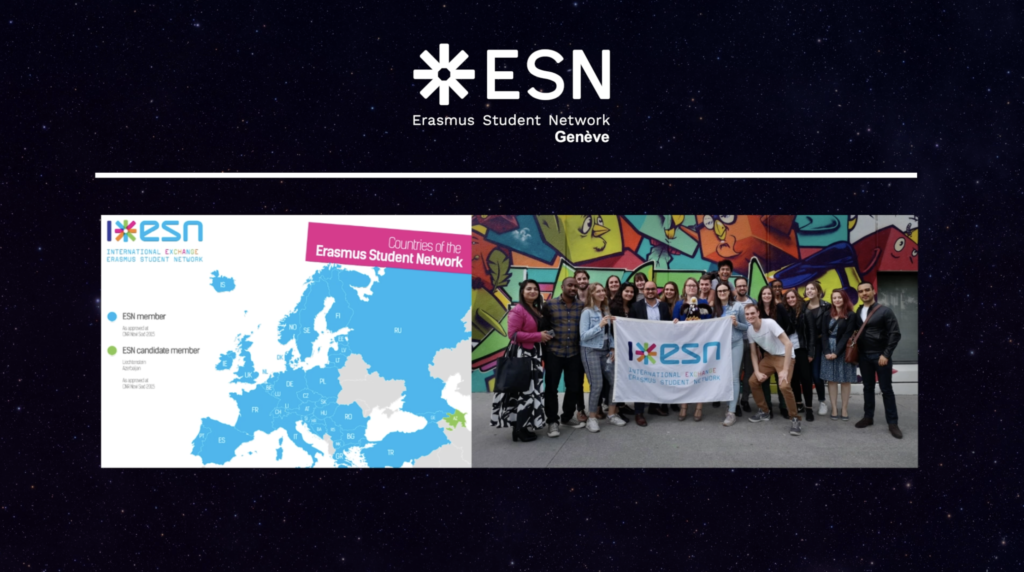 Every year, 500 exchange students come to study at the University of Geneva. In order to integrate them, the ESN association organises around 100 events with the help of its 60 members. On an international level, ESN is the most represented university association across the world – ESN local sections are active in more than 1000 universities in 40 countries.
ESN network and ESN Genève team.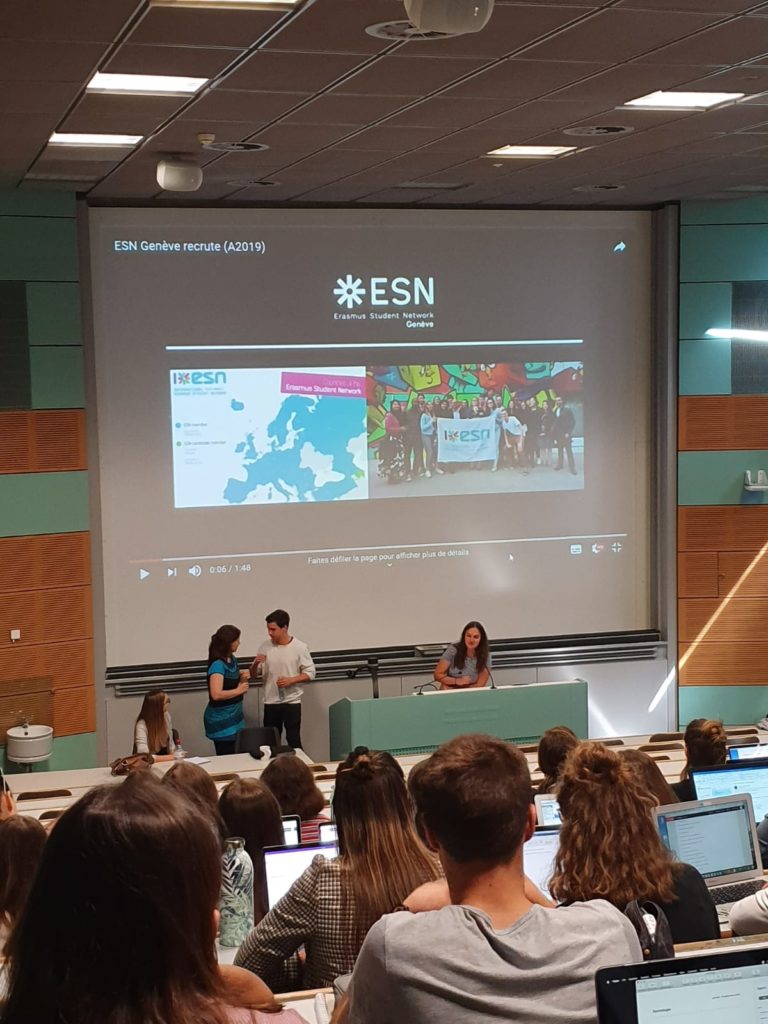 During my mandate of Communication Manager (2017/18) and President (2018/19) of ESN Geneva, I was in charge of the recruitment campaign through the 15'000 students of the University of Geneva. I realized a recruitment video for social networks and for presentations given in the lecture halls (left image) in order to encourage the most motivated students in the recruitment process.
Presentation of the recruitment video in a small lecture halls.
ESN Geneva recruitment video
The recruitment campaign was successful as it allowed the association to double its memberships from 30 to 60 in one year. The whole recruitment process as well as the structure of the association has been reworked in order to be able to welcome more human resources.
ESN Geneva recruitment video.
National Assembly invitation Video
In 2020, ESN Geneva was elected for hosting the National Assembly of ESN Switzerland. This annual event gathers the 14 ESN sections in Switzerland and about 150 participants. I realized the invitation video to promote this national meeting to the Switzerland network.
ESN Geneva video invitation to National Assembly .
I carried out these projects, voluntarily and without any budget, during my mandate as Communication Manager (2017/18) and President (2019/20) of ESN Geneva. Working as a volunteer for an association which defends my values such as social inclusion has brought me a lot of personal and professional benefits. These two video projects allowed me to realize an important communication for events that positively impacted the association in the long-term.
Nicolas La Gennusa